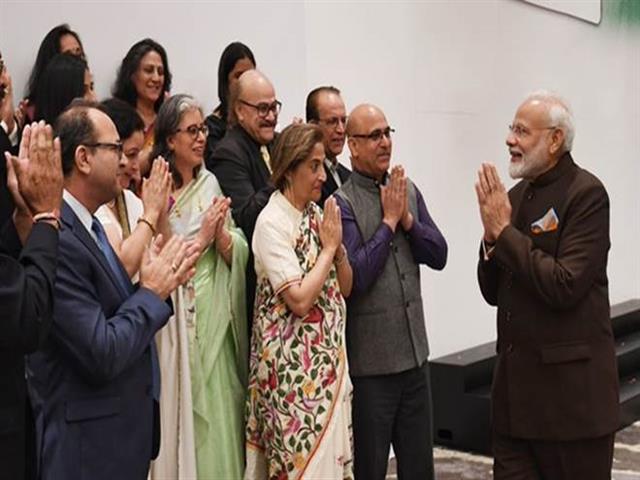 Global Kashmiri Pandit Diaspora (GKPD) is a Kashmiri Pandit civil society movement. We are not an organization but a collective movement. Our selfless volunteers are drawn from all major Kashmiri pandit organizations across the globe as also community members whether they are living in Jagati township or in California, London, Auckland or Brisbane. We are committed to the unity, diversity and sovereignty of India. Over the last 30 years we have watched with horror as the gun entered Kashmir. Its first target was the Genocide and Ethnic Cleansing of Kashmiri Pandits. Over the arc of 30 years the gun expanded its reach and impact destroying everything that was precious in Kashmir. This greatest of evil was not nipped in the bud. In fact, the pattern of inaction revealed a purpose that seemed to show tacit complicity on the part of those in governance.
It is this realization which gave birth to GKPD twelve years ago in the year 2008 when we undertook a mammoth job of securing a unanimous resolution from MP state assembly in 2008.
Subsequently we have initiated interaction at a policy level with the highest stakeholders in J&K.We interacted with previous chief interlocutor Mr.Dalip Padgaonkar to convey to him the community feelings at a global level. Subsequently we interacted with past Chief Minister of Maharashtra Manohar Joshi, Neel Kashakari the Assistant secretary US treasury, Ram Madhav, Subramanian Swamy, Vijay Chauthaiwale and many others. We have also submitted countless letters to International organizations' e.g. in October 2018 a letter was sent to UN secretary general Antonio Gueteras to make him aware of our genocide and to arrange a meeting. A protest letter was also sent in August 2019 to the health journal Lancet in regarding their biased coverage of the Kashmir conflict in what is primarily a health journal.
A signal achievement was the creation of a Joint Memorandum of Understanding which reflects the common demands of our community. This MOU was signed by over 30 organizations and nearly 15,000 individuals. The memorandum was presented to Honorable Prime Minister Modi ji on 14th September 2018 following a mega demonstration in Delhi at B.K Ganjoo park to commemorate Balidaan Diwas. Protests, rallies and commemorative events were held not just in New Delhi and other regions in India but also in USA, UK, Australia, New Zealand, UAE, Singapore, Germany, and Finland. The global diaspora of the community on the day also submitted a common approved memorandum to various high commissions/consulates across the globe.
We held our maiden press conference on 21st December 2018 chaired by Dr K.L.Chowdhary (GKPD Chairman) to share our vision with the community and national and International media.
A major global teleconference 'Right the wrong in Kashmir' was held on 16th February 2018 which was attended by representatives of key political parties in erstwhile state of J and K.One senior PDP leader acknowledged the genocide committed against Kashmiri Hindus. One of the key outcomes of the teleconference as to set up a political steering committee to raise our key demands with GOI regarding sustainable settlement in the valley. This was formed on 4th April 2019 and includes prominent Kashmiri Pandits form various spheres of life in key leadership positions.
5th August 2019 saw the historic abrogation of article 370 and 35 A.GKPD as at the forefront of commending the government and released a press note commemorating  the same on 6th August 2019.This was followed by a meeting with Vijay Chauthaiwale Head of BJP foreign affairs department in Houston on 17th August 2019 as a prelude to the historic meeting with Honorable Prime Minister Narendra Modi ji in Houston at the 'Howdy Modi' event in September 2019 where Modi ji reassured the GKPD team that rehabilitation of Kashmiri Pandits was a priory for his government. On 8th February 20220 he made a historic statement in Parliament about 'J and K identity being buried in 1990'. The domicile bill and JK reorganization order was hailed by GKPD in the form of a press release on 19th May 2020 as an important first step towards restorative justice for Kashmiri Pandits.
15th June 2020 saw the dastardly killing of Sarpanch Ajay Bharti ji. GKPD organized protests across the globe in U.S.U.K, Australia, New Zealand, Thailand, Europe and South Africa to condemn this heinous crime.
In August 2020 to commemorate the anniversary of article 370 abrogation weeklong webinars were held in India,U.K,Canada and USA.Honourable minister of textiles Smriti Irani joined the webinar on 5th August 2020 and offered her full support to the KP cause.
In September 2020 Balidan Diwas was observed at B.K Ganjoo Park and across the globe where our martyrs were commemorated.
In addition GKD has held Campaigns to engage with national and international audience and tell the real story of Kashmir. In September 2019 a peaceful demonstration was held outside Washington post office against its biased news coverage on Kashmir following article 370 abrogation In May 2020 a letter was submitted to St Paul city council to strongly oppose their resolution misrepresenting India and its citizenship act July 20220 a high powered global webinar was held by GKPD in collaboration with Indo Americans and officials from President Trump administration regarding upcoming US elections.
GKPD has established links with Norwegian council to get our genocide recognized internationally as a step towards eventually approaching the United Nations Human rights commission.
We have created media cells to launch quality campaigns to Interact with wider civil society in all regions of Jammu and Kashmir.
GKPD is also engaged in Humanitarian Support for Jagati resident's initiative via 'Helpline Humanity' initiative.
In September/October 2020 the legal cell of GKPD has submitted several RTI's regarding our genocide, ethnic cleansing, loss of properties to the government with encouraging responses .This will be followed by GKPD approaching the highest courts in India to seek justice.
In 2019 GKPD collaborated with noted filmmaker Vivek Agnihotri to launch 'Kashmir files a movie based on first-hand accounts of genocide of our community members across the world. The movie has been delayed because of Covid situation but the filming has commenced now.